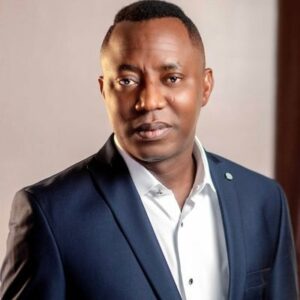 The presidential candidate of the African Action Congress, Omoyele Sowore has slammed his counterpart from the Peoples Democratic Party, Alhaji Atiku Abubakar for banking on the current predicament facing the masses, concerning the naira scarcity to win vote.
Sowore who made this known via his Twitter handle on Monday, noted that the naira redesign policy was targeted at the poor Nigerians and claimed that Atiku is taking such a sensitive issue, affecting the lives of the common Nigerians as an opportunity to campaign and win vote based on sentiment.
He further stated that any sensitive leader, who is real in his thoughts and wish for the people would have known that the naira redesign policy was used to hurt the poor Nigerians.
In his comment, he said, "Opportunistic @atiku thought he could capitalize on the poverty -inducing naira design to win election.
"Any real leader would have known that 'naira design' fraud was gonna to hurt poor Nigerians.
"Reason I keep saying there is no difference. He's coming to sell everything," he tweeted.
The poor implimentation of the naira redesign policy which caused naira scarcity in the country has prompted a lot of protests and outrage from the people and some of the concerned political leaders, who are calling on the presidential, Major General Muhammadu Buhari (rtd) and the Central Bank of Nigeria, to obey the interim order of the supreme court, which stated that both the old and new naira notes remain a legal tender till April this year.