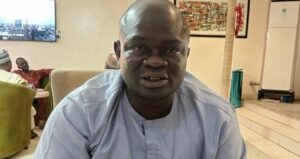 Bisola David
The Action Alliance party in Lagos State, stated that Gov. Babajide Sanwo-Olu of Lagos State will lose the upcoming March 11 governorship election due to the action plans and strategies the AA party has put in place.
The News Agency of Nigeria reported that the party's chairman for Lagos State, Alhaji Nureni Ayinla-Oniru, made this claim in an interview on Sunday in Lagos.
"Campaign-related street performances that make noise and dances do not result in votes. We are aiming for the voters who are inside.
"We are working on our own strategies, which are really sweet and will help us achieve our goals. Despite the fact that we lack funds, we have a strategy.
"We have strategies to take down Sanwo-Olu. It may seem impossible to some people, but it is not.
In the elections, "I can guarantee you that Action Alliance would win 13 local government districts of Lagos," he stated.
He claims that the party is primarily focused on the March 11 elections for the house of assembly and governor.
In light of the party's efforts to reach out to the general public, he voiced confidence that it would win the state's governorship race.
On the campaign, Ayinla-Oniru stated that the party used a different approach than usual rallies in order to connect with voters at the grassroots.
"Our goal is to return Lagos State to the people and citizens of the state, as opposed to the select few for whom it now works.
"We want to head a government that would enable the poor to live comfortably because we are moved by the suffering of the poor masses. The lives of the majority are very important to us.
He stated that the reason AA is on the ballot is that the general public has a right to their rights and what is due to them in terms of welfare.
"The party is for the poor to get together and help themselves out of hardship, not for the rich. Our governorship candidate was chosen from among the masses.
"We have faith and confidence that the'money bags' will lose the election and be defeated by the masses.
He continued, "The masses will defeat Gov. Babajide Sanwo-Olu at the polls no matter how hard the ruling party tries."
The party, he claimed, has created a REBIRTH AGENDA.
Explaining the REBIRTH agenda, Ayinla-Oniru said that R stands for Restoration of Security, E for Energy and Education, B for Broad- Based Governance, I for Infrastructure and Traffic Management, R for Rural Development, T for Tourism and Transportation while H- stands for Housing and Health system.