Former Osun State Governor and Minister of Interior, Ogbeni Rauf Aregbesola, was absent as his successor, Adegboyega Oyetola's re-election campaign train moved to the Odo-Otin Local Government Area of the State.
A number of All Progressives Congress bigwigs, including the co-chairman of the party's National Campaign Council for the Osun governorship poll, Governors Babajide Sanwo-Olu of Lagos and Abdullahi Ganduje of Kano and the National Secretary of the party, Senator Iyiola Omisore, were present at the rally.
The minister's absence fuels speculations that the duo are yet to resolve their differences which date back to the party's primary.
The Osun Progressives, a faction in All Progressives Congress in Osun State backed by Aregbesola during the last governorship primary of APC in the state, had supported ex-Secretary to the state government, Moshood Adeoti, against Oyetola, who eventually won the party's ticket.
Although pictures of Oyetola and Aregbesola locked in warm embrace had recently surfaced on social media with accompanying words suggesting that the two men had reconciled, the Chairman of 'The Osun Progressives,', Lowo Adebiyi, in an interview with The PUNCH said that both men are yet to reconcile.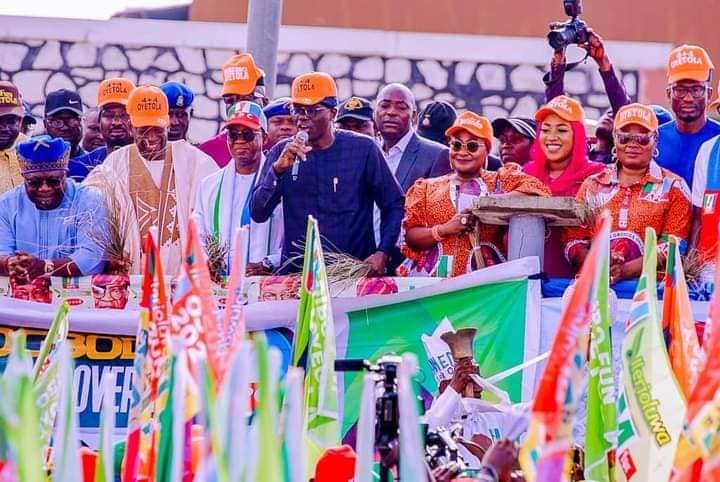 Meanwhile, Sanwo-Olu, Ganduje, and Omisore have expressed confidence that the APC will secure a landslide victory in the July 16 contest.
The trio maintained that the APC governorship candidate and incumbent Osun governor will emerge victorious on the first ballot saying "there is no room for inconclusive this time around."
Speaking at the palace of Olokuku of Okuku, Governor Sanwo-Olu said, "We have come to support your son, a governor who is a pride among governors. This is a man whom God has blessed with deep wisdom and wealth of experience, no wonder he is doing wonderfully well. We are proud to be associated with him and he is an example to many of us.
"We have come to show you that he is not alone on this journey. By the grace of God, Oyetola will be re-elected come July 16.
"This election is one that is projected to bring progress to Osun, and to Nigeria as a whole. So, we expect Governor Oyetola's re-election to come with ease and landslide victory.
"The good people of Osun, if you are privileged to have an uncommon leader, give him all the support possible. If fellow governors can testify that he is a shining light, that should give a fair idea of how uncommon he is.
"We will be here next week for the national campaign for him. By the grace of God, Oyetola will win and we are going to vote. This is a decision that will bring development and progress not only to Osun but to entire Nigeria as the Osun election will determine next year's general elections," SanwoOlu said.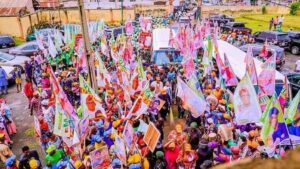 On his part, Governor Ganduje said, "We are here to give maximum support to our brother, your son, Governor Oyetola. From what we have heard and seen, he has performed excellently well in all sectors and God has used him to bring social development to Osun within the three and a half years he has been administering the affairs of the State.
"He has done a lot in education, infrastructure, and empowerment, and he has built a good relationship with workers, trade unions, and traditional institutions among others. This is the confidence we have that it will be a landslide victory for him in the coming election. There is no way this will be an inconclusive election," the Kano governor noted.
Also speaking, Senator Iyiola Omisore and the National Women Leader of the APC, Dr. Betta Edu, said the party had put in place necessary mechanisms to ensure free, fair and credible election, saying that victory is assured for the party, in view of the positive feedbacks of its campaigns.
"We have heard from our visiting governors what Governor Oyetola represents and what his re-election presupposes. These words are open challenge to us to do what is right for the sake of Osun and its future," Omisore added.
Also present at the rally were the Director-General of Oyetola's re-election Campaign Council, Sen. Ajibola Basiru and the APC State Chairman, Prince Gboyega Famodun, and the Olokuku of Okuku, Oba Abioye Oyebode.