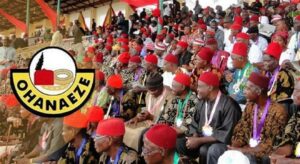 Bisola David
It is just a few more days before the February 25 presidential election and Ohanaeze Ndigbo has issued a warning saying that if the Labour Party's candidate for president, Peter Obi, wins on Saturday, his triumph must not be contested.
According to Daily Post, the Secretary-General of Ohanaeze, Okechukwu Isiguzoro, issued a strong warning against attempting to undermine Obi's triumph.
Isiguzoro asked Nigerians to cast votes and to protect their votes across the nation.
Isiguzoro pleaded with President Muhammadu Buhari and the Independent National Electoral Commission, in a statement, not to give in to the influence of dishonest political elites.
Isiguzoro said: "Nigerians should vote and secure their votes across the nation; we must put an end to the age of executive theft, corruption, and insecurity by electing the most qualified candidate.
"Nigerians must make sure that they hold President Buhari and INEC accountable for refusing to give in to the pressures of the corrupt political elites who are banding together across party lines to fight for their political survival against a political tsunami that is about to sweep them off the map.
If Mr. Peter Obi wins, "Nobody should refuse Mr. Peter Obi the Presidency, because attempts to subvert the will of Nigerians and deny Peter Obi his triumph if he wins will bode death for the country."