Gombe State has been ranked 5th among the 36 States of the Federation and the Federal Capital Territory on the 2023 Transparency and Integrity Index.
The index was released in October by the Center for Fiscal Transparency and Integrity Watch in collaboration with the MacArthur Foundation.
Recall that, the state moved four places from the 11th position in 2021 to the 7th position in 2022 in the ranking.
In 2023, Gombe ranked 5th among the 36 States of the Federation and 2nd among the 19 States of Northern Nigeria with respect to transparency variables such as Website Integrity, Fiscal Transparency, Anti-Corruption Efforts, Open Procurement, and Public Engagement.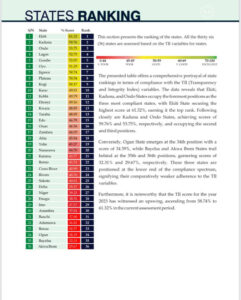 This index measures the extent to which state and federal government websites disclose information related to good governance within the public domain.
Commenting on the development, the Director-General of Research & Documentation, Associate Professor Muazu Shehu emphasized the transformation in Gombe's accessibility to crucial information.
He said, "Prior to Governor Muhammadu Inuwa Yahaya's assumption of office in 2019, Gombe lacked a functioning website, which led to a deficit in accountability with citizens having no means to access vital data regarding governance, public finance, budgets, government audited accounts, and public procurement.
"This lack of online engagement channels hindered citizens from effectively holding the government accountable.
"However, in a resolute commitment to establishing transparency and accountability, Governor Muhammadu Inuwa Yahaya took the initiative to create a new official website for Gombe State.
"This website was meticulously designed with a strong focus on transparency, accountability, and citizen engagement. It incorporates features such as public procurement, budgeting, and government-audited accounts, enabling citizens to access critical information about the state government.
"Moreover, the platform provides avenues for citizens to interact with the government online, thereby empowering them to hold the government accountable.
"The website has evolved into a tool for promoting transparency and accountability in Gombe".