The United States President Joe Biden's visit to Ireland continues on Thursday with key engagements, including a scheduled address to the Irish parliament.
On Thursday, Biden is expected to spend most of the day in the company of leading Irish politicians and meet Irish President, Michael D Higgins, as his visit to the Republic of Ireland encompasses both the personal and the political, according to BBC.
On Wednesday evening, it was all about the personal, as Biden visited both Dundalk and his ancestral roots in the town of Carlingford in County Louth.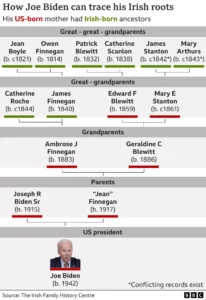 Biden reportedly met distant relatives in the Cooley Peninsula, where crowds lined the quayside as the presidential motorcade arrived.
Later in Dundalk, there were shouts of "welcome home, Joe" when Biden arrived to address an audience at the town's Windsor Bar.
On Thursday, however, President Biden will begin his working day with a visit to Áras an Uachtaráin, the home of the Irish president in Dublin's Phoenix Park.
While there, some of the set-piece engagements lined up for him include, inspecting a military guard of honour, planting an oak tree to mark the occasion, signing the visitors' book and ringing the Bell of Peace.
A joint delegation attending the event will include Tánaiste (Irish deputy prime minister) Micheál Martin, US Secretary of State Anthony Blinken and former Irish football star Paul McGrath.
Then President Biden is expected to travel the short distance to Farmleigh House where he will have a bilateral with the Taoiseach (Irish prime minister) Leo Varadkar before his next significant engagement – his address to both houses of the Oireachtas (Parliament) – the Dáil and the Seanad (Senate).
To round off the day, Mr Biden will attend a banquet dinner in his honour at Dublin Castle.
His speech is expected to emphasise both his pride in his Irish roots and American support for the Good Friday Agreement – which is 25 years old this week.
On Wednesday he met political leaders in Northern Ireland at the new Ulster University Belfast campus, urging them to make a return to governing but praised them for their unity after the attempted murder of one of Northern Ireland's top detectives in February.
Northern Ireland has been without a power-sharing government since its second-largest party, the Democratic Unionist Party, collapsed the Stormont executive over its opposition to the trade arrangements for Northern Ireland that resulted from the original Brexit deal between the UK and the EU.