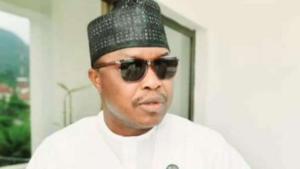 Bisola David
The Kogi State accountant general, Alhaji Jubril Momoh, has declared his candidacy for the APC to run in the state's next governorship election.
According to Leadership, this year's Kogi State governorship election is scheduled for November 10 in the state.
Momoh's committee of friends purchased his nomination and expression of interest forms yesterday at the APC national secretariat in Abuja under the direction of a former state commissioner, Hon. Ebije Paul, and a top APC official in the state, Hon. Abdulazeez Raji.
The crowd that surrounded the APC national secretariat in Abuja in their numbers caused congestion inside the Buhari Mansion premises.
Ebije claimed that Governor Bello had developed leaders throughout the previous seven years, which is rightfully a fundamental responsibility of every leader to produce other leaders as is expected.
"But while many were trained, our man, Jibril Momoh, stood out by emulating the values of good leadership and selflessness and dedicating himself to humanitarian activities among other noteworthy characteristics of quality character and best public office holders' practice, among other commendable qualities.
"Jibril's opposition to bad governance, corruption, and deceit has won the hearts of many and inspired a sizable following. His enthusiasm and affection for the advancement of society, excellent administration, and the provision of high-quality services are what most fascinate me."
Raji claimed that they chose Momoh's application in the hopes that he would heed their plea for him to run for governor.
He stated that after working with Governor Yahaya Bello as the state's top accountant, the choice to convince Momoh to run for governor of Kogi was based on the conviction that he is the best candidate to continue Governor Bello's legacy.
The party leader said that given what the Bello administration has accomplished in terms of state civil service development and reform, continuity in government can only be ensured by a public servant with a strong sense of accountability like Momoh.
"We are here at the APC headquarters to buy the Expression of Interest & Nomination Forms for him (Momoh) to participate in the upcoming governorship race in Kogi State," Raji added.
"Our next objective is to deliver these forms to Alhaji Jubril Momoh and urge him to run, in the hope that he will heed the call of the good people of Kogi State and do the right thing.
"What His Excellency, Governor Yahaya Bello has accomplished in Kogi is a turning point in the development of governance and infrastructure. To uphold the governor's legacy, you'll need someone like Momoh, a man of accountability and transparency.
"The governor's accomplishments are highly significant, and we believe that they cannot be replicated by just any politician. The confluence state needs a leader who has been tried and trusted. A technocrat like Momoh is ideal since he has experience in governance and has worked with Governor Bello. In Government House, we don't need a newbie. We require a someone with experience in government, such as the accountant general."