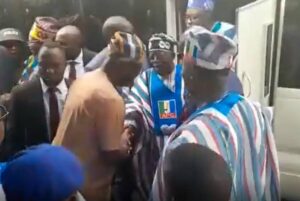 The Oyo Stae governor, Engineer Seyi Makinde has received the presidential candidate of the All Progressives Congress, Asiwaju Bola Hamed Tinubu at the Government House in the state capital, Ibadan.
The APC campaign team rescheduled its Ibadan presidential campaign rally to today, Thursday February 16, 2023.
It was reported earlier, that the venue of the APC presidential campaign rally in the city, Mapo Hall was already full of entertainment activities, as the anxious supporters were waiting for the arrival of the APC campaign team.
However, today's meeting with the governor, is coming barely 24 hours, after the campaign train of the All Progressives Congress hit Rivers State for its campaign rally on Wednesday, which took the Presidential Candidate of the party Asiwaju Tinubu, to stop by, at the Rivers State Government House, to give the State Governor, Nyesom Wike a friendly visit.
Makinde who is a member of the G5 Governors of the Peoples Democratic Party and the rest of the G5 group have not declared their support for any Presidential Candidate but, with the look of things, there might be possibility that most of them are pitching their tent of support for Tinubu, as it has been speculated in some fora.
In less than two weeks to the Presidential and National Assembly Elections, a lot of political alignment and re-alignment will be witnessed in the political space in the country.
It would be recalled that the APC campaign rally in Ibadan, the Oyo State Capital, was earlier scheduled to hold on Tuesday but, it was postponed to Thursday, in solidarity with the mercies, who are facing difficulties, due to the scarcity of naira and fuel which has almost paralyzed the whole economy of the country.